2. Cædmon's Hymn

See/Hear/Download: Score(PDF) MIDI (24 KB) MP3 (5 MB) Sibelius5 (81 KB) MusicXML (1.1 MB)

Text: 9-line fragment of a hymn by Cædmon (CAD-mun) circa 660 A.D.. Sung first in the West-Saxon dialect of Anglo-Saxon, then in Latin, and finally in Modern English:


Nu scolun herigean heofonrices Weard
Meotodes meahte ond his modgeþanc,
weorc Wuldorfæder, swa he wundra gehwæs
ece Drihten, or onstealde.
He ærest sceop eorðan bearnum
heofon to hrofe, halig Scyppend.
Þa middangeard monncynnes Weard
ece Drihten, æfter teode
firum foldan, Frea ælmehtig.

Nunc laudemus Praeses regni caelestis,
Vim Creatoris, cogitationemque Suum,
opera Patris Praeclari; quam ille, Dominus aeternus,
omnia miracula ab principio instituebat.
Primo aetheram qua tectum finxit
liberis Terrae, Creator sanctus.
Terram mediam deinde Custos hominum,
Dominus aeternus, postea viris fecit,
orbem terrarum nostrum, Dominus omnipotens!

Now we should praise the Guardian of heaven's kingdom,
the Creator's might, and His subtle thought,
the work of the Glorious Father; how He [all] wonders was,
eternal Lord, originally establishing.
He first shaped, for Earth's children,
heaven as roof, Holy Creator.
Then middle-Earth: mankind's Keeper,
eternal Lord, afterwards made
for men: our Earth. Master almighty!



A pronunciation guide for the Anglo-Saxon part is attached at the end of the score, and Project Gutenberg also offers an on-line recording.

Musicians: SATB chorus a cappella, baritone solo, triangle(s)/chime(s)/bell(s) on d" and/or d"'. Doubling with organ or strings may be helpful, unless the chorus is large.

Length: 7:45

Style: solo, chant, organum, motet, anthem, & canon

Program notes: The tune and most of the words of Cædmon's famous hymn have been lost; this fragment of the text was recorded by the Venerable Bede. In this setting, the message and the musical theme are preserved through many changes of form as the language and the musical style gradually progress from those of the early Middle Ages to those of the English Restoration.

First performance: Morgana Kamerkoor, Den Haag, June 2009, under direction of composer Taco Sorgdrager.

Nota Bene: Cædmon took his subject from the book of Genesis. But, by setting his words to music, I did not intend to endorse "creationism" or "intelligent design" of organisms. In fact, I teach the scientific theory of biological evolution (as described in this one-page summary). However, the ultimate origin of the mass-energy of the universe, and its physical laws, remains a subject full of mystery and wonder.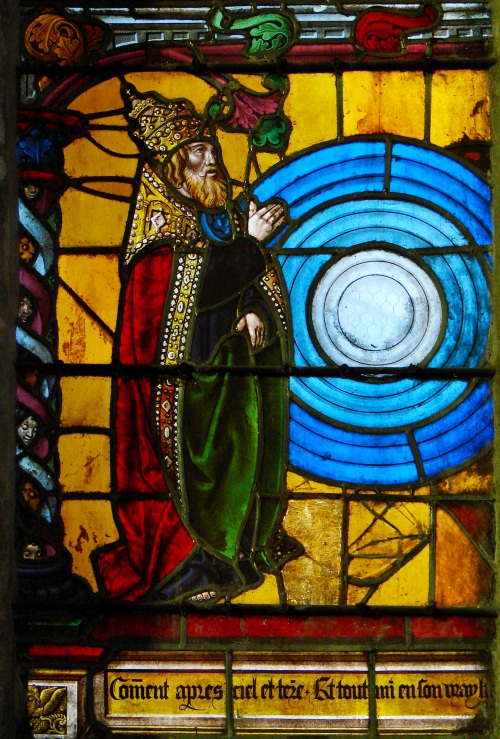 Creation window, early 16th c., église de la Madeleine de Troyes
photograph by Vassil, 2008
WikiMedia Commons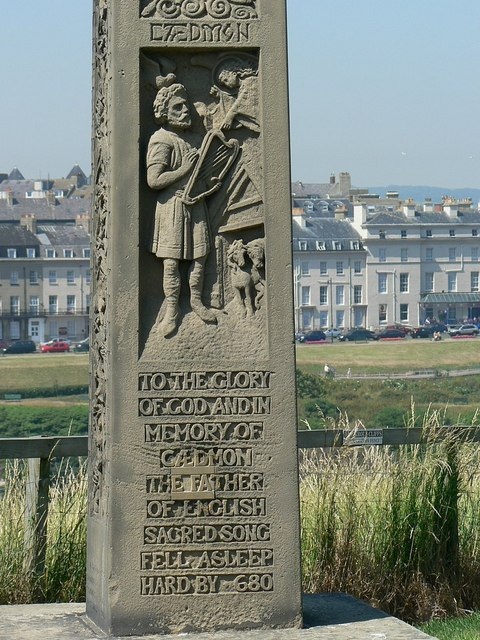 Cædmon memorial, St. Mary's churchyard, Whitby, North Yorkshire
photograph Richard Thomas, 2006
WikiMedia Commons