6. John Muir suite (a cantata of 4 numbers)
See/Hear/Download: Score(PDF) MIDI (43 KB) MP3 (9 MB) Sibelius 5 (108 KB) MusicXML (1.9 MB)
Text: Four well-known quotes from the prose of John Muir:
I. N'ascensione madregala: "Climb the mountains, and get their glad tidings...."
II. Nature her galliard: "Everything is flowing, going somewere... / "How lavish is nature..."
III. Vespers: "The evening flames with purple and gold..."
IV. Grand canon: "This grand show is eternal. It is always sunrise somewhere..."
(Full quotations may be found on the last page of the .pdf file.)
Musicians: SATB chorus, violin*, & flute* [*or equivalent organ stops]
Length: 2:42 + 2:04 + 2:44 + 2:30 = 10 minutes.
Style: Renaissance.
Program notes: John Muir was effectively engaged in his own time as the prime advocate for appreciation and preservation of wilderness. But in his outdoor aspect as a wandering sadhu, he developed a consciousness of "deep time" which is measured in sequoias, ice ages, and even orogenies. Instead of setting his words in a contemporary style (e.g., Brahms, Verdi, or ragtime), I have emphasized the eternal part of his message by using our earliest secular models, those of the Renaissance. Here are a madrigal, a galliard, a vespers anthem, and a canon, which outline one glorious mountain day: morning ascent, afternoon in an alpine meadow, sunset, and philosophizing by the campfire.
First performances were in 2015. The American premiere was given on 29 April by Lively Experiment, a University of Rhode Island group under the direction of Prof. Mark Conley. The European premiere was given 23 October, by Andante Chamber Choir, in their "John Muir Concert" at Belhaven Parish Church, Dunbar, Berwickshire, Scotland, under the direction of John Stone, with John Harris (flute) and Tony Kime (violin).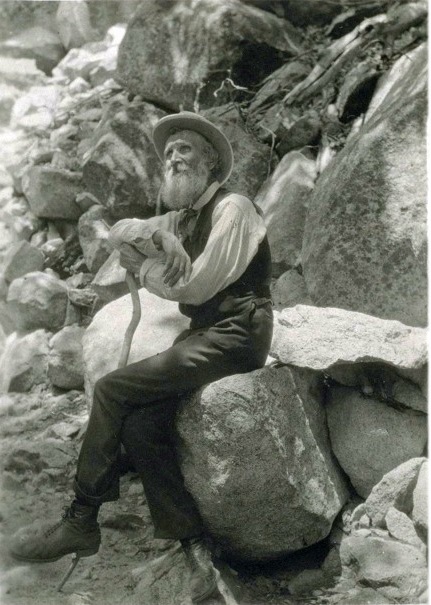 John Muir, American conservationist
Francis M. Fritz, 1907
WikiMedia Commons