13. Mountain streams
See/Hear/Download: Score(PDF) MIDI (30 KB) MP3 (6 MB) Sibelius5 (71 KB) MusicXML (1.2 MB)
Dedication: To Gary Snyder.
Text: A new poem of 4 stanzas describing 4 beautiful places progressively higher up a mountain stream. Inspired by memories of trails in New Hampshire, Colorado, Wyoming, and California. In each setting, a resident animal is seen, heard, or inferred.

Rushes and cattails; hum of the mayflies;
warm snow from cottonwoods glowing in sun.
Balance on black logs; seek out the current;
find out the green pools where rainbow trout run.
Watch for the old moose; leave him his kingdom:
slow-moving, silent, and powerful one.

Here is the trail again; follow it upward,
walking in beauty, to find our way home.

On the moraine, in the forest of lodgepoles,
circle the lake which the wind lashes bright.
Mountains arising above and around it;
cataracts sound when the breeze is just right.
Call of the loon echoes eerily outward,
seemingly everywhere; never in sight.

Running through rifts in the rock of the mountain,
cascading clean over cliffs, sounding clear.
Rushing of water and wind in the aspen leaves:
All of the powers of nature are here.
Footprints and traces of fur in the shady grass;
here is a haunt of the humble mule deer.

Up where the spruce trees are twisted and low,
in between banks of the blue and white snow,
meadows of flowers are watered by streams
of crystalline water that quietly flow.
Pika and marmot are watching and whistling.
Clouds swirl around you, above and below.

Here is the trail again; follow it upward,
walking in beauty, to find our way home.


Musicians: TBarB chorus (sometimes divisi) and piano.
Length: 6 minutes.
Style: Romantic part-song.
Performance suggestions: The wail of the Common Loon (briefly heard in verse 2), and the chirp of the pika (briefly heard in verse 4), are not easily captured in standard musical notation. If you listen past the end of the piece in the .mp3 file, recordings of a pika and a loon are appended for guidance.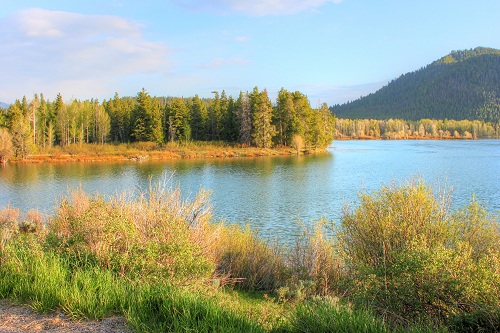 Snake River, Wyoming
Peter Bird, 2012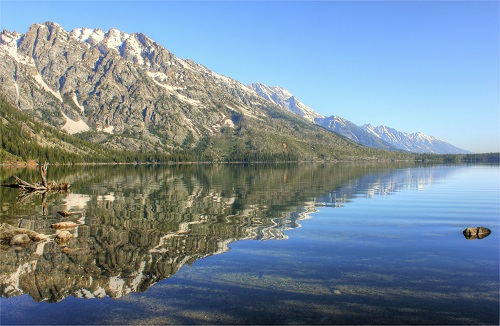 Jenny Lake, Wyoming
Peter Bird, 2012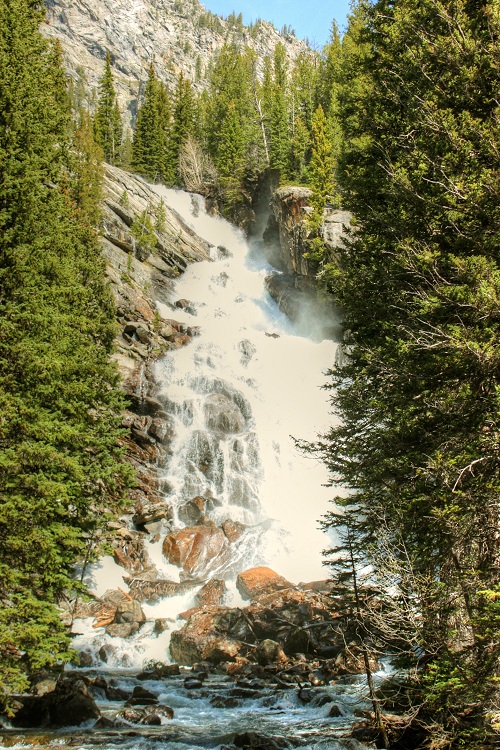 Cascade Creek, Teton Range, Wyoming
Peter Bird, 2012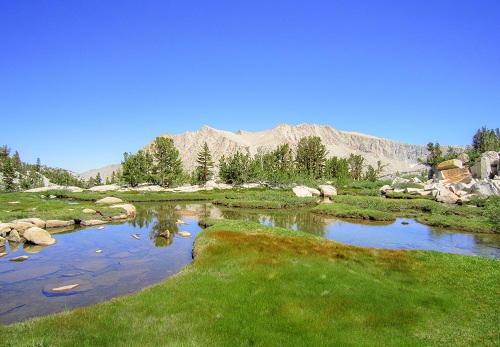 alpine meadow, Granite Park, Sierra Nevada, California
BakerClaw, 2010
Wikimedia Commons; Creative Commons Attribution Share-Alike 3.0 Unported