4. Pushkin's "Reverie"
See/Hear/Download: Score(PDF) MIDI (23 KB) MP3 (6 MB) Sibelius 5 (96 KB) MusicXML (1.1 MB)
Text: Untitled 8-verse poem by Aleksandr Sergeevich Pushkin, 1829. (May be sung either in English or in Russian.)

While wandering a noisy roadway,
Or entering a crowded church,
Or sitting with the crazy young folk,
I fall into my reverie:

I think again: The years are marching;
The number left we cannot see.
We all must pass the eternal archway,
Each at his hour, inexorably.

When I behold a lonely oak tree,
I think: A forest patriarch;
It will outlive my time and memory,
As grandfather's it also marked.

While cradling a lovely baby,
Immediately I think: farewell!
I yield my place, so yours it may be:
As I fade, your bloom shall swell.

Each day, as days roll on to year-end,
I escort with familiar thoughts:
Which day will be the anniversary
When by slow death I will be caught?

And where will fate my ending tally?
In war, abroad, or on the sea?
Perhaps the very next small valley
My cooling ashes will receive?

Although, in truth, a senseless body
Is careless where it lies, at best,
Yet close to my beloved country
Is where I long to take my rest.

And let this be: By my sepulcher
Young life will come to play, in time.
And let indifferent, thoughtless Nature
Eternally in beauty shine.


Original Russian may be found on the last page of the PDF file.
Musicians: Unaccompanied SATB chorus, B & S solos.
Length: 6:30
Style: Romantic
Program notes: Pushkin describes how thoughts of the inevitability of death intrude into his daily life. By the end, he achieves acceptance, or at least resignation, by visualizing his tomb and himself at rest. This poem is doubly poignant: First, Pushkin actually died young, in a duel to defend the honor of his wife. Second, because Pushkin had difficult relationships with both the government and the orthodox church, his funeral was private and hurried. Following 6 verses set to original melodies, I set the last two verses as solo descants against the traditional hymns "Holy God" and "Eternal Memory." In Pushkin's time, the singing of the former might have been permitted even for the heterodox. The latter hymn was clearly in his mind, as shown by the echo of "Вєчная память" in his final words "вєчною сиять."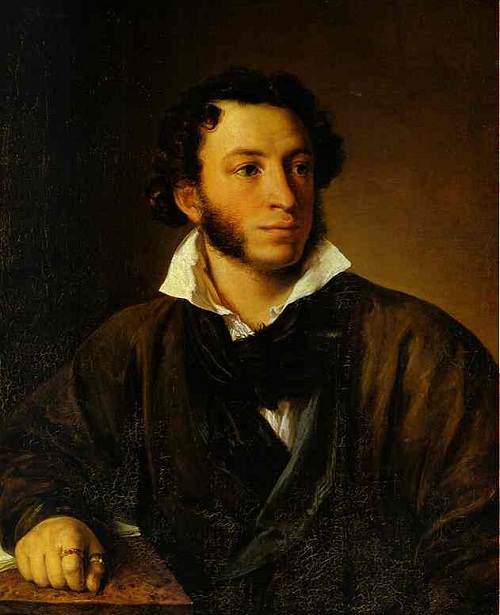 Portrait of Alexander Pushkin
Vasily Tropinin, 1827
WikiMedia Commons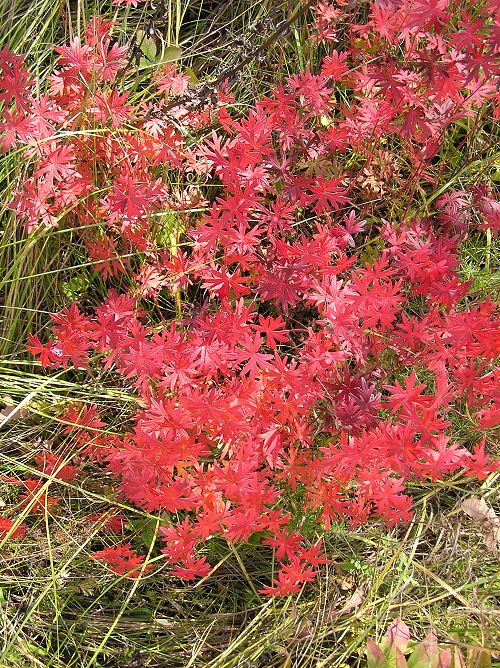 Geranium sanguineum (fall color), Tatishchevsky District, Saratov Oblast, Russia
Le.Loup.Gris, 2011
WikiMedia Commons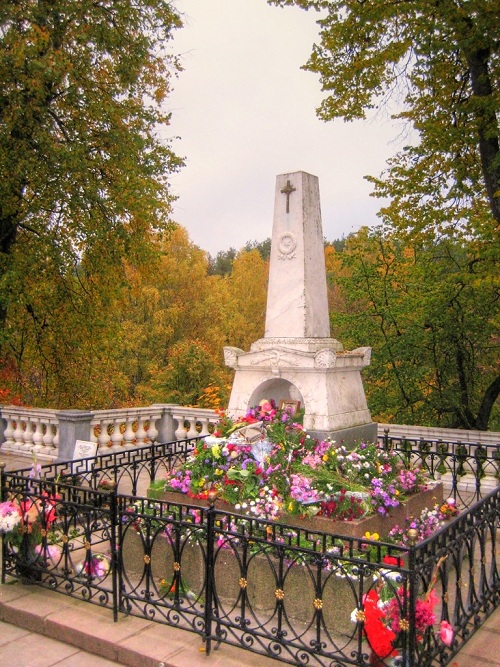 Tomb of Aleksandr Sergeevich Pushkin, Svyatogorsky Monastery, Mikhailovskoye, Russia
Андрей Лапшин (Andrei Lapshin), 2008
WikiMedia Commons