5. To The House
A cappella version: PDF MIDI (15 KB) MP3 (4 MB) Sibelius4
Version with organ: PDF MIDI (22 KB) MP3 (4 MB) Sibelius4
Dedication: To my grandfather Peter Forgue, an artist in wrought iron, who also hand-built a house by the sea.
Text: Poem "To The House" by Robinson Jeffers. Used by permission. Text and copyright notices may be found in each .pdf file, following score.
Musicians: SATB chorus, a cappella, or with organ. (Separate organ part follows score and text in .pdf file.)
Length: 4:30
Style: Vernal pandiatonic harmony. Episodic, with four themes for earth/air/fire/water; earth & water combine in finale.
Program notes: Robinson Jeffers and his wife Una moved in 1914 to Carmel, California, at the north end of the rugged Big Sur coast. Here he would build Tor House (and later, Hawk Tower) from granite on the site, and celebrate the work with this poem that invokes the four classical elements of earth, air, fire, and water.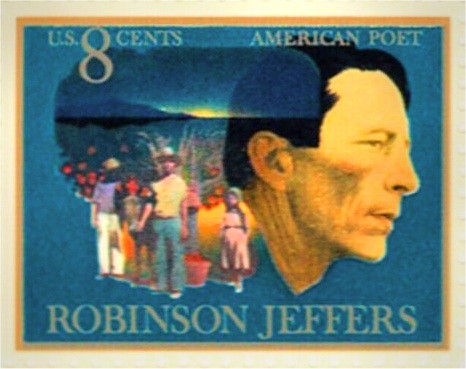 1973 U.S. Postal Service stamp honoring Robinson Jeffers
WikiMedia Commons